***** PLEASE READ TERMS AND CONDITIONS CAREFULLY *****
This listing is for one aluminum Wilwood Tandem Master Cylinder. We have used this master on Thunder Roadster and Legends road race cars. This product is NOT INEX sanctioning body legal. This product does have many applications see info below. However it is up to the customer to decide if this product is needed for their application. Pictures 1 through 4 are of the actual listing and picture 5 thru 16 are so our online customers can see we are a steel, brick and mortar building with the equipment, personal and inventory to give our customers the service they need and deserve. Please view my store for many more items for your Legend Race Car. If you need questions answered we can be contacted at the shop phone number, 704-782-6134.
Made from durable lightweight aluminum with a large capacity plastic reservoir and dual outlet bores, this master cylinder utilizes standard O.E.M. internal components. Standard factory mounting bolt holes can be adapted to racing pedal assemblies with an optional mounting adapter bracket (including push rod and dust boot, see diagram below). This lightweight (2.5 pounds) reliable master cylinder is used for Drag Racing, Late Model Stock Cars, Street Rod and Off Road applications.
Tandem Master Cylinder - Product Summary
Master Cylinder Dimensions
Bore Size: Area (in): Stroke: Volume (cu in):
1-1/16" 0.88 1.35
Master Cylinder Description
Type: Outlets: Material: Finish:
Tandem Outlet 2 Aluminum / Plastic Anodize
Reservoir
Res Type: Res Size (oz): Res Size (cu in): Rate:
Integral
Additional Dimensions
Overall Length(in): 12.42"
Flange to End Length (in): 8.14"
Inlet Size (in):
Inlet Fit (in):
Outlet Size 1 (in): 1/2-20 IF
Outlet Fit 1 (in): 1/2-20 to 3/16 Tube Nut
Outlet Size 2 (in): 9/16-20 IF
Outlet Fit 2 (in): 9/16-20 to 3/16 Tube Nut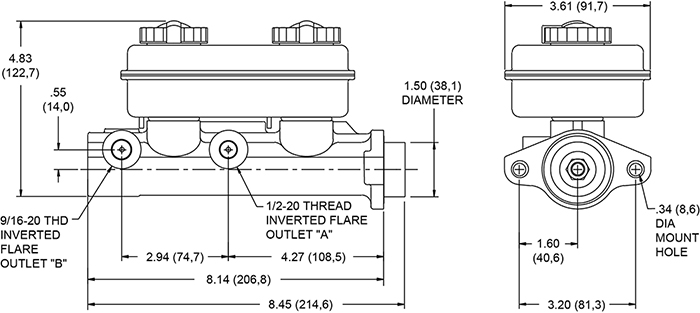 Terms and conditions:
*Payment must be made within two days of auctions end.
*Payment method is PayPal only.
*Item will be shipped within two days of receiving payment.
*LIMITED INTERNATIONAL SHIPPING. Please email before bidding.
*This is a racing part, no warranty is expressed or implied for this listing.
*There will be a 7.75% sales tax for all RESIDENTS OF NORTH CAROLINA. Sorry, state law!
*If buyer is a North Carolina resident, after purchase please wait until I send you an invoice with sales tax adder before making payment.
*We do combine (discount) shipping when buying more than one item.
* Buyer is responsible for all shipping charges.